Well, it's been a long and terribly busy month. It's been hard to squeeze in time to eat and sleep, let alone post to my blog. But it's all done now!
My stuff is all ready to go into The Arcade in Second Life. Here's a key, with all the things listed.
There are only 11 this round, because I'm putting a gift in the Season of Giving, too, and needed to make 2 new things for The Tannenbaum Market. (More about both of those later. This post got too long.)
But nearly all of them do something, or at least are set up to be easily customizable.
The biggest piece is the Music Box. It's pretty much a reconstruction of a Capital Cuff Music Box, Style A, made by F.G. Otto & Sons in Jersey City, NJ in the 1890s. I changed a few things, like the design on the cuff, and simplified it here and there. And I added a design on the top, which the original was lacking.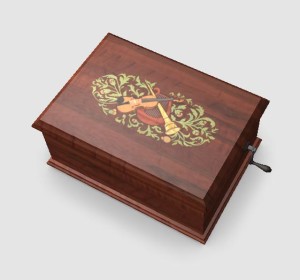 I'd actually done the design before I found the music box, and was so taken with it that I just had to recreate it. But I didn't want to pass up this design, which took hours and hours to make. (I did it in Adobe Illustrator. Those are all vectors!) So I decided to combine them!
The music box lid opens, of course, and the crank turns and makes a cranking noise. When you touch the base, the box plays one of the tunes from a real one, which the people at The Regina Music Box Center kindly gave me permission to include. (You can hear the tune at that page, too.) If you happen to know the name of the tune, please tell me in the comments!
As it plays, cuff rotates, animated textures make the gears inside appear to turn, and the fan fly spins so fast it disappears. Well, it does in the real one. In this one, it just disappears.
Finally, there's a picture inside the lid. It's one of the original lithographs that came with the box, but you can put any picture you like there, to make it truly yours. Since people might be leery of changing something about a Rare item, the owner of the box can get the original picture back at any time, by just touching it. (All the rest is set so anyone in the group the music box is set to can work it.)
So, that's one of the two Rares in this set, and took more time to make than any of the rest, as you can probably guess. It clocks in at 3 LI, but you can reduce that if you want by removing the crank.
The other rare is the trunk. Once again, it opens, and creaks a bit when it does, but it doesn't do anything else, really. There's a lot of texture work in it, though!
The inside is lined in Newspaper, because that's the way the trunk in my RL Granny's attic was.
Between them on the key is the Owl Cookie Jar. When you touch it, it gives you a choice of cookies. Pick one, give permission to attach, and it flies into your hand. You eat it for a bit, and then it vanishes. Because, you know, can't keep your cookie and eat it too!
Granny also had a simple brass candlestick in her attic, so that's here, as well. It's a working candle, of course, with a shadow that moves and a flame that flickers when it's lit. There's a script to tint the candle and the bobache (that glass ring around the base) but since it's mod, you can also tint it any color you can imagine. The candle itself is a dripless hexagonal candle. You can set it to act as a Local Light or not, and to light automatically, or not.
The Fairy Door doesn't do much except look really cute. But it's in two pieces so you can adjust the light leak so it works properly wherever you put it.
The Propeller Beanie has a prop that spins in the SL Wind. (Marianne McCann is the person who wrote that very clever script.) If you don't want it spinning, touch the middle of the propeller to stop it. You can also tint the prop whatever color you want!
The Retro Rocket is a picture frame, that'll hold 3 pictures of your friends and family, taking a trip into Space!
The Vintage Coffee Cups let you choose the kind of coffee you want to display, or you can empty them, if you prefer. They'll steam when they're full, but not when they're empty. You get two separate cups, so you can use 'em together or apart.
The Coffee Pot comes with the tray, but once again, it's really two separate pieces. When you (or anyone else) touch the pot, you can get a cup of coffee to drink. Touch your cup to get the same coffee choices as the display cups. You can also have a separate saucer to hold in your left hand, if you want. These are temp attach pieces, which never go into your inventory at all. You'll hold them for a while, slowly sipping your coffee, and then they'll vanish.
The final pieces of the set are the Sugar and Creamer. You can empty the Creamer, or fill it, with a touch. All of it is set up to fit nicely on the tray, if you want to serve coffee to your guests!
Finally, for some reason, Granny had a corn dolly! She doesn't really do anything but stand there and look cheerful; but you can tint her skin, hair, dress, kerchief and apron all separately, so you can really personalize her!
The Arcade opens at midnight on November 30, and runs until midnight December 31. If you're a resident of SL, and you decide to go play the machines, have fun, and good luck!
I'll post about the Tannenbaum Market tomorrow.