So, it's been ages since I posted, because I've been running before the wind, as the saying goes. I have a few minutes right now, though, so I thought I'd try to catch up, and let people know what's in the works.
The main project is an update to my website. It's been years since it was updated, and it's long past time that it was done. But it's a huge job, because it's a huge site.
The last time I worked on it, too long ago to remember, I only did half the site before I got busy with other things. The half I didn't do, of course, was the Grove. Yes, sadly, those pages have been there, untouched, for longer than some adults who might read this have been alive. Whew!
When I got to the Altar page, I realized the main picture there is way, way, way too small for current standards. When I first posted those pages the web was a whole different, and much slower, place.
Which meant that I needed to re-render the altar scene. But I couldn't just dust off the old scene and render at a higher resolution, because the software I used, Infini-D, has been gone for many years. (It was sold, resold, smushed together with Ray Dream Designer to make Cararra, and sold again some time last century. Literally. Cararra is owned by DAZ now, but it can't open the ancient Infini-D files as far as I know.)
Anyway, I use Modo these days, so I rebuilt the scene from old .obj files I saved when I realized that Infini-D was going, going, gone.
Which meant that I was essentially making all new models based loosely on the old models.
Which meant, as long as I was redoing them all, it wasn't all that much more work to bring them into Second Life. Where the altar set that I still had in my in-world store dated from 2004. (That's the thing about getting old. You have to keep redoing and updating work that you finished long ago, because the world has changed.)
So. For the last couple of weeks I've been eyebrow-deep in modo, making altar ware for Second Life. I have enough of them finished now  that I put them together into an Altar Set.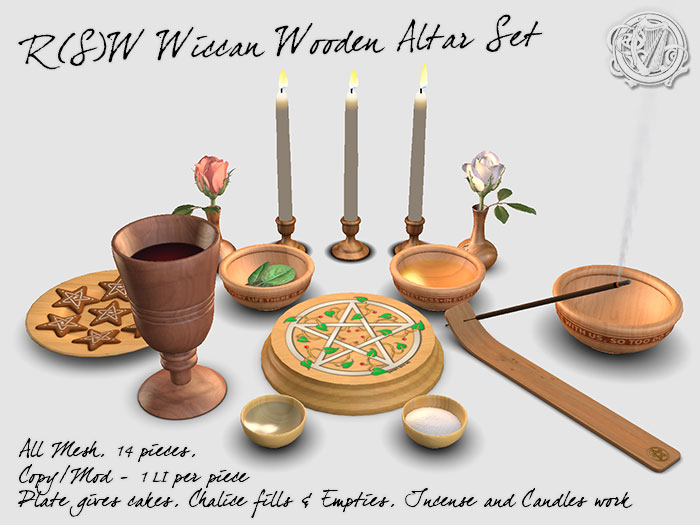 You can get it now at the Second Life Marketplace, or from The Broom Closet on my sim, Livingtree, in SL.
I still have plenty of pieces that are finished in modo, but need to have the SL textures and LODs made. Things like the Athame, wand, chime, incense that uses self-igniting charcoal, and so on. You can see them in the raw test render that's the Featured Image for this post.
Well, mostly raw. I just noticed that I have one lens flare there, because I was experimenting to see if the idea I had for lens flares would work. But I need to render it with the lighting I intend to use, and the proper gamma, and all the rest of that stuff. It's not going to look like that when it's done!
I'll be bringing everything into SL except the hyacinths. I didn't remake those, and the mesh is way too dense for SL. I substituted the rosebuds, instead.
Anyway, now that the basic set is in there, I'm going to be concentrating more on the website. No idea when it's going to be finished, but hopefully sometime before the end of summer. I might need to change it in chunks to make it, but people do that, sometimes. Right?
So that's what I've been up to. Now that the pressure has eased a bit, I hope to be able to post more often, and show you where I am, and how far I'm getting.
Because I can't keep working at the pace I've been trying to maintain. I'm too old for that!
So, let me know what you think about all of this!
Until next time!