The June 2016 round of The Arcade in Second Life is open!
This round, I have a pressed wood dollhouse, complete with all the furnishings!
The furniture all comes in at under 1LI per piece. The dollhouse itself is 2 LI (because it has a working door, and all those windows have real glass – or perhaps it's plastic – in them.)
All the furniture is very detailed, and some of it, like the kitchen table and chairs, is designed to be easy to tint whatever color you like! There's even a dollhouse to go inside the dollhouse.
The dollhouse itself is carefully textured to show all the parts of the rooms that aren't removable furniture; things like posters on the walls, a kitty clock in the kitchen, fireplaces, and kitchen cabinets. The outside has a richly landscaped texture, like a real pressed wood or metal dollhouse.
The Arcade has a new "thing" this round; if you play the machine more than 50 times, you'll get a special Reward. It's only available for this one month. It's no-transfer, so you won't be able to buy them anywhere, and we have all agreed not ever to sell them anywhere else.
My Reward is a mailbox and lamppost for the dollhouse.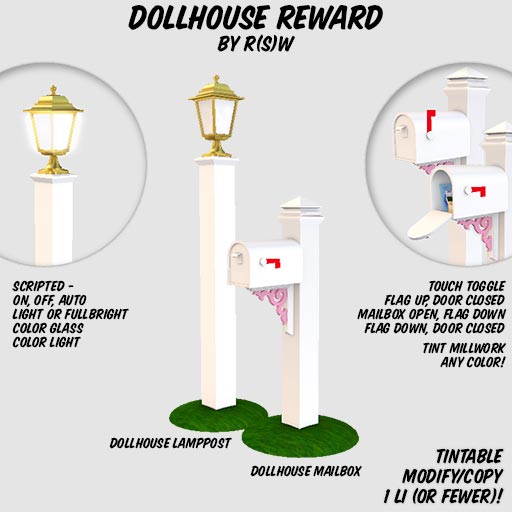 The lamppost lights up, of course, and you can also change the color of the light, make it auto (on at dusk, off at dawn) and all the other things you can do with my lights.
The mailbox has a toggle. The first time you touch it, the flag goes up. The next time, the flag goes down, and the door opens so you can see the tiny little pieces of mail. The third time, the door closes, and it's back where you started.
As always, I'm pretty excited about The Arcade. There's a lot of really good stuff in it! You can see all of it (not just mine) at The Arcade June 2016 Shopping Guide.
If you're an SL Resident, it's a lot of fun, and a great way to get amazing stuff for very few Lindens!
See you there!