It's October! (I'm sure you would never have guessed that if I hadn't told you) and that means that Halloween is coming up.
I've been looking at Halloween quilts, trying to decide what to make, and came across one with a candy corn border designed by Elizabeth Cecchettini for Babylock several years ago. As soon as I saw it, I knew that was the one I wanted to do. And I knew I wanted to put my Halloween Jack Cat in the center panel. I whipped it up in Electric Quilt, and decided it was too pretty not to bring into Second Life®.
So that's what I did. I put it on two things: the Rail Quilt, and the Draped Bench.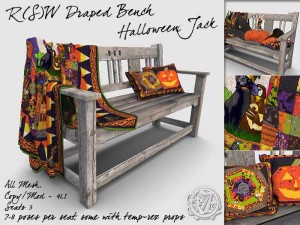 The draped bench required a couple of pillows, so I designed them, too. The one on the left is original, the one on the right is one of the block designs that comes with Electric Quilt.
The bench has all kinds of poses, including one that lets you pretend you are drawing. In the original bench, that one had a drawing I made of a lily. But that didn't seem right for Halloween. (Even though I had a friend point out that lilies are often found on graves. But yeah… no.) So I reinterpreted an old image I'd done on the computer years ago, Boo!, so it looks like you're drawing that, with colored pencils.
I was quite pleased with the way they came out.
The rail quilt is mostly just the quilt, and the central panel is mostly hidden on that one, but oh well. it still looks nice and bright, and it still has that wonderful candy corn border! (I used that on one of the pillows, too. It's a pieced border that looks so simple I'm sure I could make it in Real Life, even. Which I can't say about some of the quilts I've designed for SL!)
If you are a resident of SL, and you're interested in the particulars for either of these, you can find both the Draped Bench and the Rail Quilt on the SL Marketplace.
Other than that, I'm still working on the Texture Tutorials, and doing other fall type things.
I've decided, in my old age, that I'm tired of working every waking moment. So now I'm stopping after dinner, and playing around with other things, sewing, taking tutorials, and other fun stuff. Time off. What a concept!
(I think I like it!)