Sorry for vanishing like that! I got sick, and the medicine the doctor put me on made it really hard to focus or do much of anything. But I'm better now!
I have been trying to get some stuff done while I was gone. First off, I got a citronella candle out for Second Life.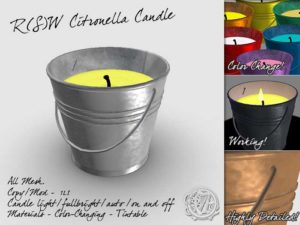 I'm pretty pleased with it. Like the res of my candles and lamps, it works (either Local Lights or Fulbright.) I don't really see the point of a light that doesn't light!
It's also color changing; there's a script to change the color of the candle or the bucket, although since it's copy/mod you can also just change it all manually, if you prefer.
If you would like to know more about it, you can see it in the SL Marketplace.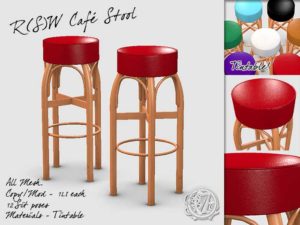 I also released a stool to go with the café table and chairs. That was week before last, but I had a story that I blogged that day, so I was going to wait to talk about this, and then I got sick.
It has 12 sit poses, is also copy/mod, and you can find out all about it in The Marketplace as well.
Speaking about SL, there are only two weeks left of The Arcade. As always, when it's over you'll be able to keep playing my machine on Livingtree; but you won't be able to get the special Rewards for playing the machine 50 times ever again. So if you want those, you only have a couple of weeks to get them!
There won't be a new item out in Second Life this weekend, because the thing I'm working on right now is going to take me longer than that to finish. I think it'll be worth the wait though.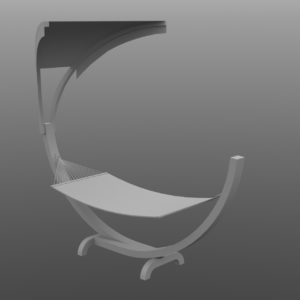 It will come in three parts; the hammock itself (I still need to make the pillows but they're coming,) the stand, and the shade canopy.
That's so the hammock can swing. Swinging in the hammock is important! It also will mean that if you have trees, you don't need to use the stand. And if you don't want the canopy, you can save the LI and not have it.
It will probably wind up tweaked a bit from what you see in the picture, and it needs textures and things, of course. It is, after all, a work in progress. But I thought you might like to see what I'm cooking up.
On the writing front, I'm in the process of editing a book about Wicca that I wrote nearly 10 years ago now, but then Life happened and I forgot to do anything with it. Michael reminded me about it, so now it will see the light of day!
It's for people who aren't necessarily interested in joining the religion at all, but who want to know something about it because they have friends, neighbors, or clients that are Wiccan.
With any luck, that will be available in the next month or so.
The next Kip Andrews story will be published here on my blog on Saturday. I hope you like it.
If you liked the last one (Stormy Weather) I'd really appreciate it if you could review it on Amazon. If you want to read it again, you can read it for free if you happen to subscribe to KindleUnlimited. Otherwise, the book is only 99¢.
If you want to read my stories early, you can join my Patreon. I would really appreciate your support.
I'm also starting to work on the redesign of the site, in my copious free time. (Haha.) Since there's not a whole lot of free time, it might be a while before you can see it, but I'm working on it.
So, that's what I'm up to at the moment!
Thanks for reading, and if you have a question, comment or suggestion, please let me know.