In Second Life® we have a thing called gacha machines. You might be familiar with them in First Life (or Real Life, if you prefer.) Like the real ones, you put money into the virtual machines in SL™ and get a random prize. Like the real ones, some of the prizes are common, and some are rare. Like the real ones, for many the goal is to complete a set, so there's a fair amount of trading your duplicate prizes for ones you need.
In Second Life, there are machines that are there all the time, of course. But there are also special events, called Gacha Festivals, that feature machines made by many designers, all together in a special venue.
One of the most popular is The Arcade, which is open for a month, on a quarterly schedule. The next round opens on September 1, about two weeks from now as I write this.
I'm going to have a machine in this round, just as I have in the last two. Except that this time I'm collaborating with my friend Marianne McCann, since First Life has been keeping me pretty busy the last couple of months.
This isn't the first time I've been in the Arcade. I was also in it for a couple of rounds when it first opened. Nor is the Arcade the only Gacha Festival I've been part of.
After a round of a Festival is over, the creators who participated can choose to retire their machines, or set them up at their own stores and continue to let people play them. Since I've almost always chosen to let people keep playing, I have a dozen or so machines full of stuff now, scattered all over my sim (my SL server, which is my virtual island, and the place where I have most of my stores.)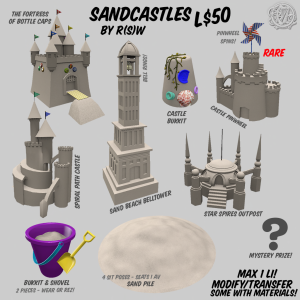 This made sense to me, since I've been putting the machines near the kind of thing they relate to; the machine full of sandcastles on the beach, the one with sewing stuff in the Quilt Shop, and so on. But I have been thinking about it lately, and have decided to put copies of the machines in one central location.
So now, if you visit my Main Store in Second Life, you'll find a new Gacha Grove just to the South of it, with all my gacha machines. You can play all the machines there to your heart's content. You can also grab the two freebies that were associated with the last two Arcade machines. You can even get a free folder with all the textures showing the items in each machine; handy if you choose to trade or sell your extras!
I'd love to have you visit, if you are a Resident of Second Life. Stop in, look around, help yourself to the freebies, and have a great time!