As promised, here's the image with all the things I have in the Arcade this round!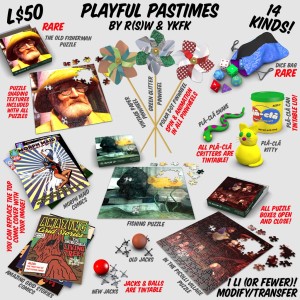 I did all the mesh for these, and about half the textures. Marianne McCann did the other half, as well as the scripting and animation in the Pinwheels.
The pinwheel animation lets you hold them, and wave them back and forth. They also spin or stop spinning when you touch them. So you can stick them in the ground, or anywhere else you like, and have them spin as well.
There are three different puzzles, with photographs by Mari on them. The box is a separate object, and the top slides open and closed with a touch. So you can close it and put it on a shelf if you like, or you can slide the lid forward so you can see it better while assembling the puzzle.
There's also an empty white puzzle texture, full perm, so if you have extra puzzles and you want to modify one, you can put your own image on the puzzle. (There's a top without a title, too, so you can put it there as well.) Instructions for all that are included, if you need them.
Mari did the covers for one pile of comics, and I did the other. Once again, if you have extra piles, you can replace the cover on the top with the cover of your favorite comic book or magazine.
The clay is really based on white, so you can tint it any color you like.
If you want a white kitty, or a purple and pink snake, or anything else at all, you can have it!
The top of the jar of clay is tintable too, so you can have piles of them, and pretend that you have all the colors of the rainbow!
The jacks are tintable too, because I always liked the colored jacks, when I was a kid.
In fact, the only prize in the machine you can't do anything with is the bag of dice; but those are so much fun, I don't think that'll be a problem. 😀