I love quilting. Well, really, I'm pretty fond of anything to do with fiber. But for the last couple of years, quilting has really captured my interest.
After a while, virtual just isn't good enough any more.
Quilt Design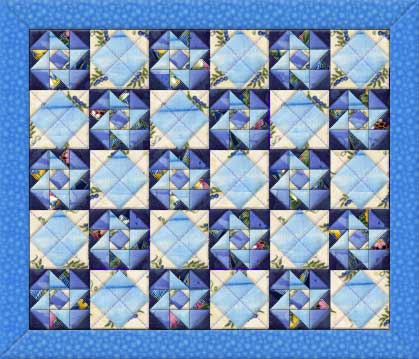 I design content in Second Life® as Robin Sojourner. Way back in the Long Ago (that's Nearly Forever in SL™ time, and about 8 years in Real Time) I decided I wanted to make a doll cradle. Which meant it needed a quilt. Rummaging around on the web yielded several quilt design programs. Eventually I settled on Electric Quilt, as it was by far the most versatile I found (even though it only runs on a PC, not a Mac.) I had a great time learning EQ (as we call it) and started to design quilts. Lots of quilts.
Virtual just isn't good enough any more
But an odd thing happened. The more I designed quilts, and did all the work to make them into "real" quilts that I could use in SL, the less that satisfied me. They were beautiful, and colorful, but I couldn't hold them! I couldn't cuddle under them, and they didn't keep me warm on cold nights. In short, they simply weren't good enough. So I took my rotary cutter in hand, pulled some scraps from my stash, and started piecing. Real quilts. Quilts with substance. Touchable, tactile, warm quilts. It's much more difficult and time-consuming to make real quilts. But it's so much more satisfying.
I love quilts.
This slideshow requires JavaScript.